View our website as it was in October 1998, 1999 and 2000.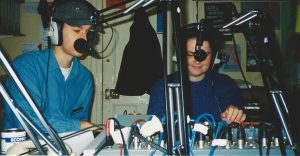 Listen to our first and last broadcasts in 1998.
Back in 1998, Insanity Radio wasn't broadcasting full time, as those licenses were hard to get and we hadn't proven ourselves worthy yet. We broadcast on these things called RSLs, that allowed us to go on FM for 28 days at a time. They were quite expensive, hence why we didn't do them for long and were keen to go permament.
We switched on our transmitter on the 18th of February 1998, and stayed on the air for 28 days straight. All the money we needed to do this was raised through marketing and sponsorship, and we finished with quite a good reserve to carry us forward to the next one.
The second time we launched, our team had a much better idea of what we were doing, and the production values were much closer to what we have today.
00:00 – The transmitter is turned on for the very first time. We play Hand In Your Head by Money Mark, but cut off the introduction as the station manager flips the wrong switch.
00:22 – We play our first full track: Brimful of Asha (Norman Cook Remix)!
00:55 – The first live voice is broadcast.
01:05 – One of the very first links (talky bits)
01:10 – Rich Clarke signs off the first transmission.
01:38 – The transmitter is turned off for the first time.
02:09 – We turn on our transmitter for the second time at midnight.
02:20 – Insanity 2 launches for real at midday!